Help your team reach their full potential with personalized, on-demand, online business English training. Fill out the form to request more information.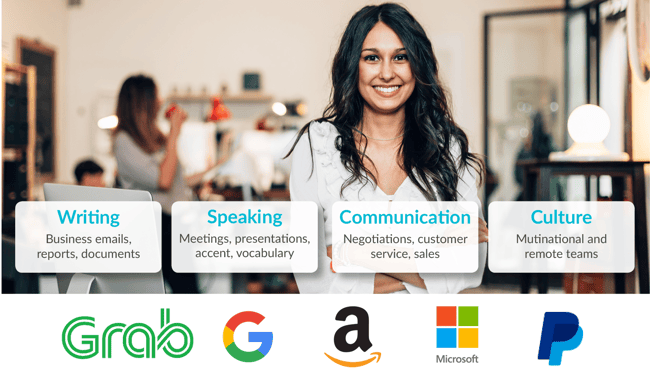 Tailored to individual needs

All time zones

Excellent teachers

Dynamic materials

Live translation, speech-to-text tool, integrated dictionaries & more

Progress monitoring for managers

24/7 support

Group lessons and webinars now also available!
Frequently asked...
1. How does Talaera's English training work?
Needs assessment:

First, we assess your organization's needs.
Training advice:

Then, we'll suggest the best training programs to your teams.
Easy logistics:

We take care of everything, from the onboarding to the very end.
Teacher matching:

Your employees are carefully matched with a teacher.
Customized sessions:

Each employee receives personalized training on our platform.
2. Is there a minimum number of lessons I have to purchase?
There is no minimum number, you can purchase a single lesson (and sign up one or two people from your team). However, you can get great discounts if you buy packages of sessions.
3. Can your lessons be used globally?
Absolutely! That's one of the greatest advantages at Talaera. We have teachers in all time zones and operate globally. You can get a package of sessions and allocate hours to your global employees.
4. Are your lessons transferable?
Yes. If one of your employees decides to stop learning (i.e. they changed jobs or got too busy), you can transfer his/her sessions to another employee, totally free of charge.
5. How long are your sessions valid for?
When you buy sessions with Talaera, you have at least one year from the day of purchase to use them.
6. How do I know the best package for my team?
We will help. Once we hear your needs, we will create a program that adapts to your specific situation. It can be individual lessons, group courses, webinars, or a Mix N' Match (a combination of them). Fill out the form on this page or email us at

info@talaera.com

and we'll take it from there!
7. What is Talaera's Premium Library?
Talaera offers personalized business English training with excellent teachers, but we've now also included a Premium Library with incredible content to keep learning between sessions, from Talaera's original self-learning courses and grammar interactive exercises to Cambridge University Press books and Bloomberg News.
8. What kind of training do you offer?
All our training is online, but we offer different kinds of sessions,

from the more personalized, highly effective individual lessons and group courses -perfect for teams- to the most scalable option - webinars, where you can enroll your whole organization, PLUS our Premium Library with incredible content to keep learning between session.
Get in touch and we'll create the plan that work best for you. Submit the form or email us (info@talaera.com).