Help everyone in your organization use English confidently at work. For free.
What learners get:
Access to hundreds of carefully designed lessons on professional business English.
Weekly group speaking practice with a native-English instructor.
How to sign up:
Sign up in less than 30 seconds.
100% risk free. Cancel anytime.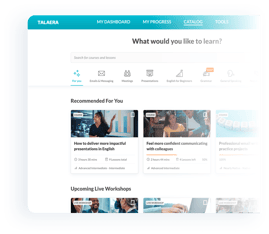 We don't want to add a single task to your plate, so to make it all easier, we wrote an email that you can use to share this exciting opportunity with your entire organization. Share it with your team via email or go to the learner page.

What will your employees learn?
Learners work on their communication skills with real-world work scenarios and common challenges that we've observed when working with thousands of professionals from diverse backgrounds at the world's leading companies.
We turn your team's workplace into their learning space. Our exercises are tailored for on-the-job practice for maximum impact.

Most popular courses

Monthly group speaking practice
Learners get to practice their business English skills with other professionals from around the world and an expert instructor in informal yet effective 60-minute business English speaking practice lessons for FREE, included in their full-access trial.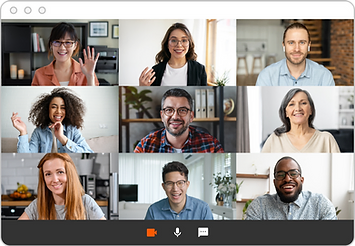 Who benefits from Talaera self-study?
This is a great resource for any non-native English speaker looking to succeed in a global workplace, especially:

What happens after this free trial?
Invite your entire organization to full access to the platform for free until December 31, 2023. Afterwards, learners will have restricted access to some courses.
If you want to keep full access for your teams, get in touch with your Account Manager or reach out at hello@talaera.com.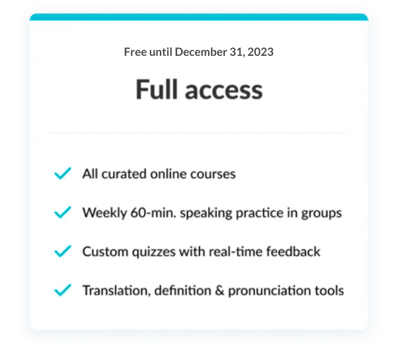 We are excited to help everyone in your organization use English confidently at work and connect professionally across cultures through:
Instructor-led training (1:1 lessons, small group courses, workshops, and webinars).
Self-paced online courses (Talaera platform, full LMS integration, and SCORM files available).
If you have questions or if you are thinking about English training for 2024, submit the form below or email us at hello@talaera.com.